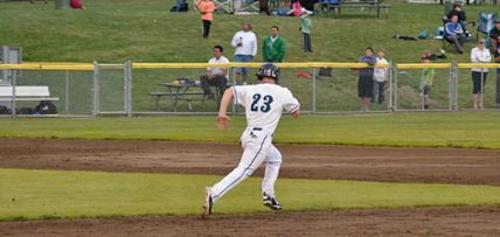 Jarel Lewis supplied the offense hitting a two-run shot in the sixth inning, his second homerun of the year.
06/26/2012 11:42 PM
The Corvallis Knights edged the Bellingham Bells, in walk off fashion, taking game one Tuesday, 3-2.
In a game that featured dazzling starting pitching, the Knights' (15-4) Jorge Perez went seven innings allowing five hits, two earned runs, while striking out four. Andrew Olson got the ball for Bellingham (12-5) going six innings, on five hits, and no runs.
The Knights had two great chances to score, loading the bases with no outs in the fourth, and also in the sixth with one out. In both innings Olson induced five pop-up outs on the infield to escape with no damage.
It was the Bells striking first in the sixth inning when Johnny Farrington led off with a single; he was moved into scoring position on a sacrifice bunt by third baseman Andrew Ely. Jarel Lewis came to the plate and on the first pitch he saw blasted a deep homerun to left giving the Bells a 2-0 lead. The homer was Lewis' second of the season, and it was his tenth muti-hit game of the year.
Corvallis would fight back in the seventh, with runners at first and second with two outs Nick Torres hit a double into the right-centerfield gap to score one. Keith Zuniga was summoned from the bullpen to relieve Olson. The first pitched Zuniga threw went to the backstop allowing Caleb Whalen, the tying run, to score.
The game would remain a tie into the ninth inning. With the bases empty and two outs Connor Hofman launched a gapper and legged out a triple. The winning run 90 feet away, Whalen again came to the plate. On a 3-1 pitch he lined a single into left field to win the game.
The win was the eleventh straight West Coast League victory for the Knights. The Bells have now lost a season high three in a row.
Game two is scheduled for 6:40 first pitch tomorrow from Goss Stadium.