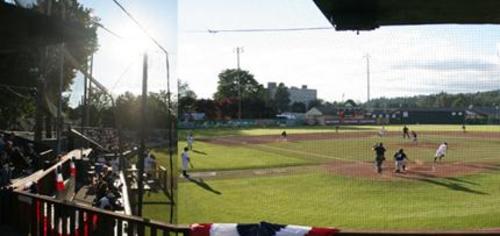 06/21/2012 11:16 PM
In a dramatic, seesaw game, the Black Bears take game one on a safety squeeze in the bottom of the eleventh inning to beat the Bells, 5-4.
The scoring started early from David Story field, in the bottom of the first inning the Black Bears (5-11) got the first two hitters on with a hit by pitch and a walk. After getting two outs, Bells starter Jeff Gonzales got a come backer and threw it down the right field line scoring two.
Bellingham (12-5) responded with a run in the second, and tied the game in the fifth on a two out RBI double from Rouric Bridgewater. With the game tied, 2-2, heading into the sixth the Bells got a leadoff single from Johnny Farrington. When Andrew Ely tried to bunt him over Cowlitz starter Mikey Murray bobbled the ball and Ely was safe at first. Three batters later Derek Atkinson grounded a single into left field to give the Bells their first lead 3-2. They would go on to add one more from Jake Peeveyhouse's single that plated Ely.
Keith Zuniga came out for the sixth inning pitching with the lead. Zuniga went four and a third innings. He pitched through trouble in each frame and persevered until the eighth when the Bears cut the deficit to one run on a two out RBI single from shortstop Austin Wobrock.
In the bottom of the ninth the Bears pinch hitter Derek Salberg lead off with a hit. Salberg was then sacrificed into scoring position and advanced to third on a wild pitch. With one out Connor Armijo hit a sacrifice fly to tie the game at 4-4.
After the Black Bear threatened in the tenth the game pressed on to the eleventh. In the bottom of the inning Nick Paxton hit a lead double to right. He then moved to third on a sacrifice. The Bells then intentionally walked the next two batters to set up a force play. Wobrock came up and put down a safety squeeze just out of the reach of Bells catch Joe Winterburn allowing the winning run to cross.
The loss went to Sean Hartnett who is 1-1 this season. He pitched two innings allowing one run on four hits. The win was given to Kody Watts as he pitched a scoreless eleventh inning.
It is the first time the Bells have lost back-to-back games since starting the season 0-2.
Game two will be tomorrow at 6:35 from David Story Field.