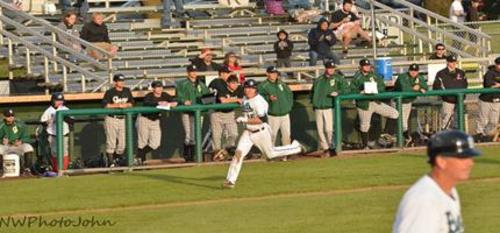 Andrew Ely drove in one run in the Wednesday night loss.
06/20/2012 10:28 PM
The Bells six game winning streak came to an end on Wednesday night, as the Klamath Falls Gems pounded out 15 hits en route to a 14-2 victory.
The Gems (2-13) started the hitting in the first inning, scoring two runs on a homer by Austin Blyer. That trend would continue as the Gems belted four homeruns on the night. The biggest offensive inning came in the fifth, a lead off big fly from Parker Miles made the score 5-2. After a walk and an error, Kevin Davidson hit an opposite field homer, the inning ended with seven runs across on six hits, two walks, and an error. Miles finished the night 3-4 with 3 RBI's.
The Bells (12-4) scored their two runs in the top of the third on back-to-back RBI singles from Des Santos and Andrew Ely. Jarel Lewis had his ninth multi-hit game of the season, going 2-4.
Bells started Karl Myers for the first time this season. Myers took the loss going four innings, allowing seven earned runs, while striking out two. The win went to Gems starter Christian Coronado as he went five innings allowing two earned.
It was the Bells first road loss of the season, and the Gems second win of the year.
The Bells return to action tomorrow as they take on the Cowlitz Black Bears, first pitch at 6:35 in Cowlitz.