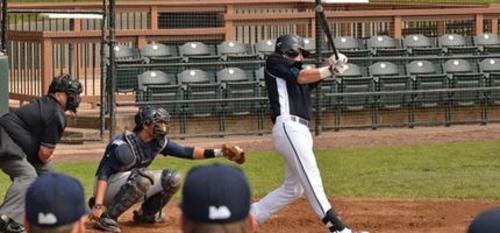 Rouric Bridgewater went 2-5 with 3 RBI's Tuesday, including a 2-run homer.
06/20/2012 12:18 AM
The Bells batted around the order in the sixth inning, scoring six times helping them win game two, 14-7, in Klamath Falls Tuesday night.
The Bellingham Bells (12-3) extended their winning streak to six games, and remain perfect on the road this season. Bellingham took an early lead once again on a second inning single from shortstop Des Santos that plated Nate Causey. The Gems (1-12) would respond by scoring two unearned runs in the bottom of the second to take their first lead of the series, they would add on three more runs in the fourth on back-to-back RBI singles from Tanner Neilson and Parker Miles.
With the Gems lead at 5-1, the Bells sent eight hitters to the plate in the top of the fifth. Rouric Bridgewater blasted a two-run shot to right field for his first homerun of the season. With two outs and the bases empty, Johnny Farrington, Andrew Ely and Jerel Lewis hit back to back to back singles to add one more run. It was the ninth time this season that the Bells started a scoring rally with the bases empty and two outs.
Chris Harper came on in relief of starter Jared Fisher, who went 4.1 innings giving up three earned runs on six hits while walking four and striking out four. Harper would get the win going 3.2 innings striking out five and four consecutive batters at one point.
In the top of the sixth the Bells would add six more runs to retake the lead. Bridgewater looped a double down the left field line, allowing Santos to score. There were then two walks, two hit batters, and two errors in the inning. Bridgewater finished the night 2-5 with 3 RBI's, Santos was 2-2 with 4 walks and 3 runs scored, and Lewis was 2-4 with 2 RBI's.
Bellingham would add one run in the seventh, one in the eighth and two in the ninth to get the victory. With the win the Bells pulled into a tie with the neutral Wenatchee Applesox at the top of the East standings.
The Bells will go for the sweep in the series finale, tomorrow evening from Kiger Stadium, first pitch 7:05.