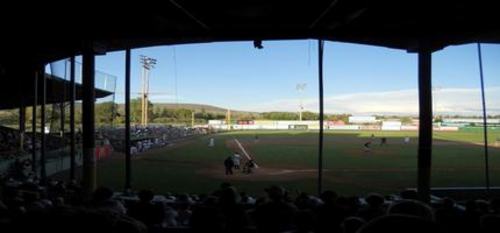 06/19/2012 12:32 AM
A four run 5th and five run 8th inning propel the Bells to a series-opening win in Klamath Falls, 13-7.
The Bells (11-3) jumped out to an early lead scoring a run in the first on a ground out from Nate Causey. Des Santos lead off the top of second with an opposite field double with one out, then, in his first at bat with the Bells, catcher Joe Winterburn singled through the right side of the infield to make it 2-0.
After Klamath Falls (1-12) made it a one run game in the 3rd, Bellingham struck back in the fifth. The first two batters in the top of the fifth were retired in order, Kai Hatch then lined a base hit to left. stole second and the West Coast League's leading hitter, Jarel Lewis, delivered a hit back up the middle driving in Hatch. It was the tenth consecutive game that Lewis had a hit. Nate Causey followed with a walk and Derek Atkinson blasted a three run home run to deep right center field. When the dust had settled from the Bells eighth bases empty two out rally of the season, the lead was 6-1.
The Gems however would put up four runs in the 6th inning without recording an out. Starter Andrew Olson was pulled after going 5 innings, allowing five earned runs on nine hits and two strikeouts. Sean Hartnett relieved Olson and recorded a strike out followed by a Gems base running miscue that resulted in a double play that ended the inning.
In the eighth, the Bells would pad their lead adding 5 more runs set off by a Rouric Bridgewater triple down the right field line that plated two. The Gems committed two of their season high six errors in the inning.
Olson took the win and improved to 2-0 on the season. The loss went to Gems starter Bryan Clough, who fell to 0-3. He gave up five hits, six runs and one earned over six innings. The Gems surrendered nine unearned runs in the loss.
The Bells have won nine of their last ten, and are 4-0 on the road this season. Game two will start at 7:05 tomorrow evening from Kiger Stadium in Klamath Falls.