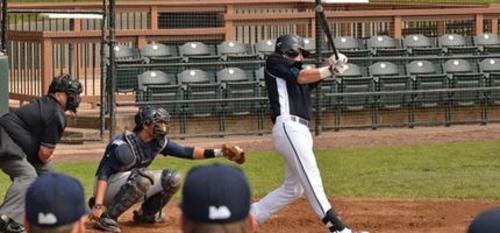 06/13/2012 10:42 PM
On an absolute perfect evening for baseball, the Bellingham Bells exploded for 10 runs on 18 hits beating the Kitsap BlueJackets 10-6 Wednesday night. Six different Bells drove runs including three hits and two RBI from both Kai Hatch and Rouric Bridgewater. Jarel Lewis also had two hits and 3 RBI.
The Bells jumped all over the Kitsap starter Kyle McKay in the first inning who ended up only retiring one batter in the game. The inning started with a Johnny Farrington single who was sacrifice bunted to second by Andrew Ely. Jarel Lewis who continues to swing a hot bat, hit an RBI single to give the Bells a 1-0 lead. Derek Atkinson walked to load the bases, and then Rouric Bridgewater lined one into center field to bring two more runs home and extend the Bells lead to 3-0.
That would be the end of the night for McKay who went just a third of an inning. Kevin Baumgartner came on to pitch and immediately gave up back to back RBI singles to Jake Peevyhouse and Kai Hatch to give the Bells a commanding 5-0 lead in the first inning.
The BlueJackets would get on the board against Bells starter Davis Engel in the fourth inning on a sacrifice fly from Frankie Torres to cut the Bells lead to 5-1. The Bells would quickly get that run back in the bottom of the inning on a one out Home Run from designated hitter Nate Causey, his second of the year, giving the Bells a 6-1 lead after four innings.
Davis Engel pitched a strong five and a third innings only allowing one run on four hits and striking out three batters. He was replaced by Randy Button in the sixth who came on and pitched an inning and a third of scoreless baseball. The Bells added four more runs in the seventh inning with RBI singles from Kai Hatch, Johnny Farrington and Jarel Lewis who brought home two and gave the Bells a 10-1 lead after seven.
Bells pitcher Chris Harper pitched a scoreless eighth inning but Logan West struggled in the ninth. West had trouble finding the plate, walking three in the inning, and gave up five runs. West would eventually get out of the inning and end the game to give the Bells a 10-6 victory handing the BlueJackets their eighth straight loss. The Bells and BlueJackets will play the second game of a three game series Thursday night at 7:05 PM.
Boxscore: http://www.pointstreak.com/baseball/boxscore.html?gameid=64341