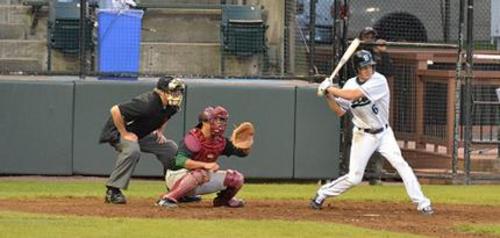 06/13/2012 8:10 AM
The Bells got back to their winning ways Tuesday night beating the Klamath Falls Gems 6-1. Bells starting pitcher Jeff Gonzales was the difference in this game, holding the Gems to only one run in seven innings pitched while striking out 6 batters.
The Bells scored first as they have so many times this year, striking in the first inning. Bells' third basemen Andrew Ely got it started with a one out single off of Gems starter Bryon Clough who then hit Jarel Lewis with a pitch to put two men on. Bells designated hitter Nate Causey then grounded a ball to first which Gems first basemen failed to field which loaded the bases. After a groundout from Rouric Bridgewater, Michael Gerlach struck out but the ball got passed the catcher which allowed Gerlach to reach first and Jarel Lewis came home to score. The very next batter was Kai Hatch who ripped a single into center to drive in another run and give the Bells a 2-0 lead.
The Bells would add another run in the fourth inning with an RBI groundout from recent Highline High School graduate Jonny Locher in his first start of the year. The Bells starting pitcher Jeff Gonzales took a shutout into the seventh inning where eventually gave up an RBI groundout to Logan Grindy which cut the Bells lead to 3-1. That would be all the damage the Gems could do on the night as Gonzales was brilliant, pitching seven strong innings only allowing one run on four hits and striking out six.
The Bells would add to their lead in the seventh in large part to back to back throwing errors from Gems third basemen Logan Grindy which gave the Bells a 4-1 lead after seven. The Bells would add two insurance runs in the eighth on RBI singles from Andrew Ely and Jarel Lewis to extend their lead to 6-1. As rain started to fall, Bells relief pitcher Mark Lambson shut the Gems down in order in the ninth to nail down the win.
The Bells now welcome in the struggling Kitsap BlueJackets who they swept on the road this past weekend. Game one between the Bells and BlueJackets is Wednesday night at 7:05 PM.
Boxscore: http://www.pointstreak.com/baseball/boxscore.html?gameid=64338