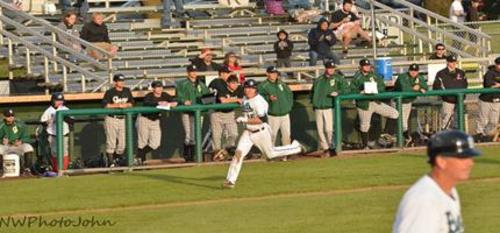 06/11/2012 8:54 PM
The Bellingham Bells came up just short Monday night against the Klamath Falls Gems losing 3-2 which snapped the Bells' six game win streak. Gems starter Brandon Williams held the Bells to only two runs in eight innings of work to give the Klamath Falls their first victory of the season.
The Bells jumped out the gates early, putting together a two out rally against Gems pitcher Brandon Williams in the bottom of the second inning. The rally was started by Bells shortstop Kai Hatch who drove a single the other way followed by a walk from right fielder Derek Atkinson. That brought up Bells first basemen Grant Fink who drove the ball over the centerfielder's head to drive in both Hatch and Atkinson and give the Bells a 2-0 lead.
Bells starting pitcher Jared Fisher was great through 3 innings but hit a rough patch in the fourth. The inning started with back to back singles from Mitchell Esser and Josh Graham, followed by a bunt single from Joshua Wong to load the bases with nobody out. Then Fisher walked Logan Grindy on four pitches to bring a run. The Gems tied the game on an infield hit from Justin Bohn and then took the lead on a sac fly from Connor George to give the Gems a 3-2 lead.
Gems starter Brandon Williams pitched great after his second inning hiccup. He shut the Bells offense down from the third inning on and finished with eight strong innings pitched only allowing two runs on six hits and striking out four. The Bells had a chance to tie the game in the seventh, with a runner on third and one out; Grant Fink came up and hit a shallow fly ball to right field. The ball was caught by second baseman Justin Bohn who turned and threw a bullet home to throw out Derek Atkinson trying to score and end the Bells' rally.
That would be the closest the Bells' came to tying the game, as they were shut down in the ninth by Gems reliever Chase Tukunaga who earned the save. The Bells and Gems will play the final game of the three game series tomorrow night at 7:05 PM.
Boxscore: http://www.pointstreak.com/baseball/boxscore.html?gameid=64334