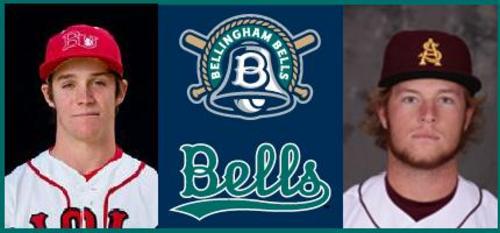 06/10/2012 9:27 PM
After sweeping the Kitsap BlueJackets on the road, the Bells continued their great play Sunday night against the Klamath Falls Gems, winning 13-4. Seven Bells batters had at least one RBI including Johnny Farrington who had a three RBI night and 2 RBI from both Jake Peevyhouse and Nate Causey.
The Bells wasted no time, jumping out to a quick 3-0 lead in the first inning. The inning started with newcomer Andrew Ely getting hit by Brandon Brown's pitch, followed by a line drive double by designated hitter, Nate Causey to score Ely. Centerfielder Michael Gerlach followed with an RBI single and Rouric Bridgewater added another run with a sacrifice fly to make the lead 3-0.
The Bells were just getting started as Gems starting pitcher Brandon Brown continued to struggle in the bottom of the third inning. Brown quickly retired the first two batters, but then things really went downhill. Right fielder Jarel Lewis started the rally with a single followed by an RBI double from leftfielder Jake Peevyhouse to give the Bells a 4-0 lead. Then Brown proceeded to load the bases with two walks and that would end his day. He would be relieved by Aaron Moore who would give up a bases clearing double to second basemen Johnny Farrington to give the Bells a commanding 7-0 lead.
Bells starting pitcher Andrew Olson pitched a strong five innings only allowing one run on two hits. Randy Button and Chris Harper each pitched a scoreless inning but Bells reliever Dante Baldocchi struggled in the top of the 8th. He walked 4 guys in the inning and allowed three runs which cut the Bells lead to 8-4.
After a rough top of the eighth inning, the Bells bats went right back to work in the bottom of the inning. Gems pitcher Moore loaded the bases on two base hits and a walk with nobody out followed by an RBI single from first baseman Rouric Bridgewater. Then Gems third basemen Joshua Wong threw wide to home plate which brought home two more Bells' runs on the error. Jake Peevyhouse would add another RBI single to give the Bells an impressive 13-4 lead which would ultimately be the final score of the game.
Boxscore: http://www.pointstreak.com/baseball/boxscore.html?gameid=64329