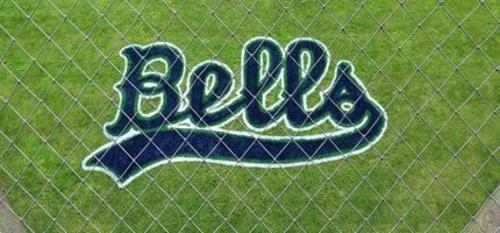 06/03/2012 9:15 AM
After the highly anticipated Bellingham Bells Opening Day game was rained out on Friday, the Bells lose in a blowout to the Wenatchee AppleSox 11-3 Saturday night.
The Bells struck first in the second inning in with a two out rally which was highlighted by a bases loaded walk worked by leadoff hitter Desmond Santos which put the Bells up 1-0. The Bells added another run off of Wenatchee pitcher Zach Abbruzza in the fourth inning after 2B Johnny Farrington's RBI single to put the Bells up 2-0 after four. Farrington, the ninth place hitter in the lineup, reached base in all four at bats, going 2-2 with 2 walks.
The Bells starting pitcher Sean Hartnett pitched brilliantly through 5 innings tonight only giving up a 1 hit until the 6th inning when things really started to fall apart. To start the 6th, Hartnett loaded the bases and then walked Stephen Ventimilia to put the AppleSox on the board followed by a RBI single from Gerhard Muelhiems which tied the game at two. Hartnett did not record an out in the fifth and was relieved by Chris Harper who allowed 4 more runs in the inning putting the AppleSox up 6-2.
Wenatchee added 2 more runs in the eighth inning and 3 more in the ninth, busting the game wide open with an 11-2 lead. The Bells managed to get a run in the ninth on an RBI double from Michael Leach but that was it. AppleSox reliever Bryce Jackson pitched the last 4 innings of the game and really silenced the Bells bats from the fifth inning on.
The Bells and AppleSox have a double header on Sunday with the first starting at 3:05 PM and the second at its regularly scheduled game to follow at 6:05.
To view the final box score of Saturday night's game, follow the link: http://www.pointstreak.com/baseball/boxscore.html?gameid=64302