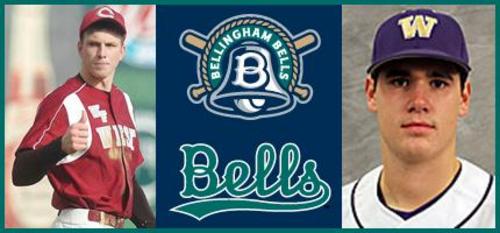 05/22/2012 9:26 AM
The Bells have signed two more players from the state of Washington for the 2012 season. University of Washington pitcher Jared Fisher and Washington State University pitcher/outfielder Mitch Gueller have committed to the Bells.
Jared Fisher, a native of Bellevue, WA and graduate of Newport High School, is currently a freshman at University of Washington. Fisher was drafted by the Houston Astros in the 2011 MLB amateur draft but decided to go to college. In his senior year at Newport, Fisher had an 8-2 record with a 1.98 ERA and 65 strikeouts in 51 innings pitched. GM Nick Caples says "Jared is a young player with high ceiling talent as evidenced by him being taken in last year's draft. We are excited to work with Jared this summer and help him reach his potential."
Mitch Gueller is currently a senior at WF West High school in Chehalis, WA and will be attending Washington State University in the fall. Gueller had an outstanding season for WF West where he won the 2A Evergreen Conference MVP. Gueller was dominant on the mound boasting a 5-0 record and a 0.42 ERA along with 51 strikeouts in only 33 2/3 innings pitched. Gueller is expected to be drafted early in the upcoming 2012 MLB amateur draft. GM Nick Caples says, "Mitch is a premium talent and we are anxious to see what happens in the draft. Of course we would love to see Mitch play for us this summer, but more importantly we would be extremely happy to see him sign with professional contract and realize a life-long dream."