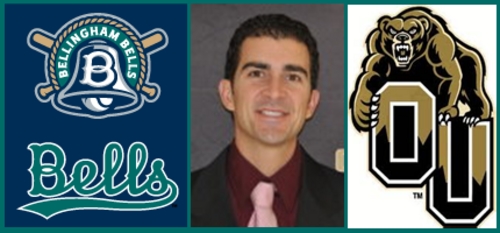 05/17/2012 12:38 PM
The Bellingham Bells have recently hired Damon Lessler to be their newest assistant coach for the 2012 season. Currently Lessler is an assistant coach for the Oakland University Golden Grizzlies and will report to Bellingham at the conclusion of Oakland's season.
Bells general manager Nick Caples is excited about the hire, saying, "We could not be more excited to have Coach Lessler join our staff. As a highly sought after up and coming coach, Damon had plenty of offers in front of him for this summer, so we are humbled that he chose to join us in Bellingham."
Lessler played college baseball at Mississippi Valley State University where he graduated with valedictorian honors. He then went on to play professional baseball with the Sioux Falls Canaries of the American Association of Professional Baseball and the Traverse City Beach Bums of the Frontier League. He has also played overseas in Germany, Sweden and Australia. Lessler is now the assistant coach for Oakland University where he will work mainly with catchers and assist with hitting and base running.
Lessler said he is excited about, "The opportunity to be involved first hand with an organization with such class and integrity. You can tell right away when you deal with the front office and the coaching staff that you're working with people of high character. These are things I value. "