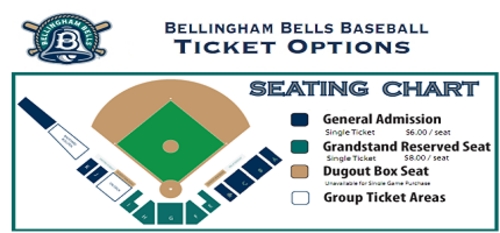 05/05/2013 5:15 PM
With fireworks, a magnetic calenddar giveaway and the introduction of the 2013 Bells team, June 12th is sure to be packed at Joe Martin Field!
Order your tickets over the phone between 9am and 5pm throughout the week and then come into the office to pick up your tickets or we can leave them at will call. Tickets are available online at any time!
The Bells are excited to offer a full promotional schedule this season. With three fireworks nights, lots of great giveaways including two bobblehead giveaways and many theme nights, the Bells schedule is packed with great promotions!
Single Game Tickets are now available. You can purchase them in one of three ways:

Telephone: Contact the Bells at (360) 527-1035 between 9am and 5pm. Please leave us a message if you get our voicemail.

On-Line: Click on the "Buy Tickets" button on the Bells' website: www.bellinghambells.com or click here.
Ticket Office: The Bells ticket office is located at the main entrance at Joe Martin Field. Ticket office hours are 4:30 - 8:00PM at all Bells home games.

Bells Single-Game Ticket Prices
Grandstand Reserved = $8.00 (Sections E, F, G, H, I)
General Admission = $6.00 open bleacher seating for 2013!