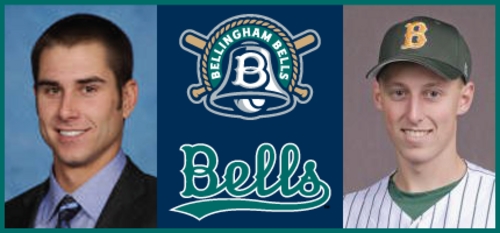 04/05/2012 2:08 PM
Bells Sign Two Position Players
The Bells have signed two more position players for the 2012 season. North Dakota State University catcher Michael Leach and San Jose State University outfielder Michael Gerlach have committed to the Bells.
Michael Leach, a native of Marysville, WA and graduate of Lakewood High School, is currently a sophomore catcher at North Dakota State University. Early into the 2012 season, Leach has a .343 OBP and he has 5 RBIs so far in 11 games work. Nick Caples says "Michael is a highly intelligent player that has great plate discipline and will be a tough out for pitchers this year."
Michael Gerlach is from Carmel Valley, CA where he attended Carmel High School and is currently a junior at San Jose State University. Gerlach is an excellent defensive outfielder and is currently fighting for one of the starting outfielder jobs for the San Jose Spartans. GM Nick Caples says, "His skill set is a perfect fit for the Bells due to his superb defensive abilities and it will be fun to see him compete for a role this summer."