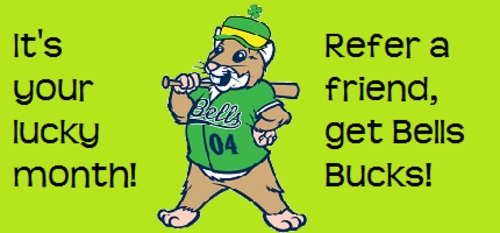 03/02/2012 11:39 AM
March 1, 2012
Hi Bells Fans!! It's your lucky month!!
In honor of St. Patrick's Day, the 17th of the month, you will receive $17.00 in "Bells Bucks" for every new full-season ticket package that is sold (in March) as a result of a direct referral we receive from you! Anyone you refer to us who purchases Bells season tickets (in March) for the upcoming 2012 season will qualify you for the $17.00 reward and there's NO LIMIT to the number of times that you can qualify!! You can use your Bells Bucks at our "Bells Towne" souvenir stand or at any of the food and beverage stands at the ballpark for any items except alcoholic beverages.
For example… Nick is a season ticket holder who tells his good friend Emily that she needs to buy some Bells season tickets in order to fill her summer with some fun times at the ballpark. Emily agrees and ends up buying a full-season Dugout Box seat and Nick receives $17.00 in "Bells Bucks" that he can use anytime during the 2012 campaign toward the purchase of all kinds of great items including delicious hot dogs, refreshing soda fountain drinks or even a brand new, great looking, Bells sweatshirt! It's that easy!
Need help brainstorming who to refer? Here are some ideas!
Neighbor or friend
Boss or co-worker
Doctor or Dentist
Fellow student or professor
Pastor or coach
Family member
Fellow PTA/PTSA members
Your favorite barista
The list is endless!!
In order to register your referrals, please send an email to [email protected] that includes the following information:
Your name and phone number
The name(s), phone number(s) and email address(es) of your referrals
Your connection to the individual(s) that you refer
This program is only going on through the month of March so be sure to get the word out early!