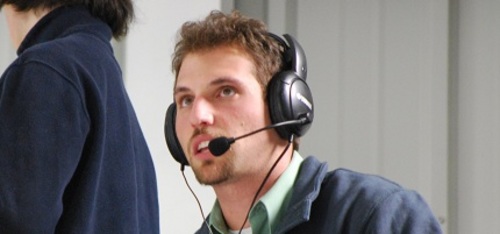 Bells Hire Play by Play Broadcaster
02/22/2012 10:45 AM
The Bellingham Bells have recently hired Justin Allegri to be the voice of the Bells for the 2012 season. Allegri will do the play by play commentary for all 58 games during the summer.
"We are looking forward to having Justin in the broadcaster booth for us this summer," said Bells general manager Nick Caples. "Justin comes in with a wealth of experience in the communications industry. He is a very well rounded young man who will fit in great as the newest member of the Bells organization!"
A 2010 graduate of San Jose State University, Allegri comes to the Bells with an impressive resume in the communications industry. He began his career in 2007 working for KSJS, the San Jose State radio station. There he was the voice of the Spartans in football, baseball, men's and women's basketball, ice hockey, and volleyball. He is currently the Sports Director at KSJS.
Allegri is already looking forward to opening day on June 1st saying "I am thrilled to be a part of the Bells this summer. This is a great opportunity for me to expand my baseball broadcasting experience."
Allegri also has experience in TV as well, working on broadcasts for Fox Sports where he covered the San Francisco Giants, Oakland A's, San Francisco 49ers and Oakland Raiders. He began working with the ESPN network in 2009, holding dynamic microphones for college football and soccer games, as well as producing news packages for ESPNU during the college football season.