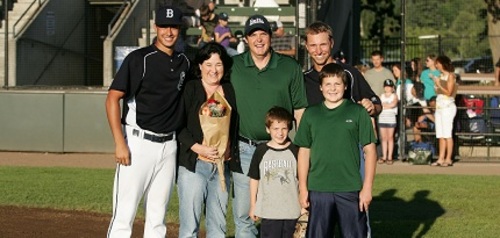 02/14/2012 5:11 PM
Bells Seeking Host Families for 2012 Summer
The Bellingham Bells are currently looking for host families for the 2012 summer season. This summer, the Bells roster will be full of young men coming to Bellingham to chase their dream of playing Major League Baseball following their college careers. One of the ways in which the Bells support these players is by finding them a host family with whom they will live for the summer.
To provide interested families with an opportunity to learn more about the role of a host family, they can attend an informational session from 7:00 – 8:30 PM on Thursday February 23rd. The event will be held at the Best Western: Lakeway. In order to confirm you attendance, please call or email Nick Caples 360-746-0406 or [email protected].
Head coach Gary Hatch will be at the event in addition to current and past host families who will be available to answer any questions. Attending the session does not commit you to being a host family; the purpose of the meeting is to provide an opportunity to learn and gather more information regarding the host family program.
Benefits of being a host family for the Bells include: free tickets to all home games for each member of the family living at home, 50% discount on the fee for the Bells summer baseball camp for each (age appropriate) kid living at home, two Bells hats and t-shirts, a 20% discount on all Bells team merchandise throughout the season, an invitation to a host family celebration during the season, and a special night at the ballpark on August 9th where host families will be honored by the team and the community.