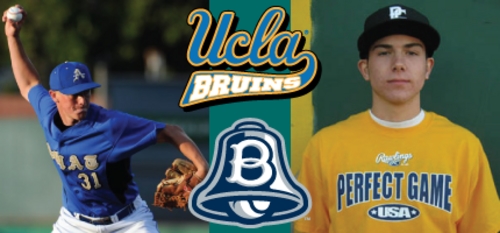 02/07/2012 3:13 PM
Duo of Bruins Sign with the Bells
The Bellingham Bells have added two more right-handed pitchers to their roster. Jake Ehret and David Berg, both from UCLA, will play in Bellingham this summer.
Ehret, a two-year varsity letter winner from San Dimas High School, is a freshman at UCLA. The 6-foot 3-inch pitcher was selected in the 37th round of the 2011 MLB draft by the Florida Marlins. "Jake is a hard throwing freshman right hander who has shown quality command and great competitiveness – we are excited to have him coming to Bellingham from one of the premiere collegiate baseball programs in the Nation [UCLA Bruins]. Jake is an excellent athlete who brings a lot of energy and ethos to the ball park," says Coach Gary Hatch.
Berg, who is a freshman at UCLA, earned two varsity letters at Bishop Amat High School and led his team to the CIF Southern Section Division IV title as a senior. He received first-team All-CIF Southern Section Division IV honors and was named team MVP at Bishop Amat, while recording a 1.05 ERA with 59 strikeouts and five walks in 47 innings during his senior season. Assistant Coach Bill Calkins says, "David is a strong competitor who will be a force on the mound. He will be a great addition to the Bells pitching staff."
As a member of the Bells, Berg will be teamed up with a former rival from high school, as Rouric Bridgewater and Berg used to go head to head in the CIF Southern Section Division IV.