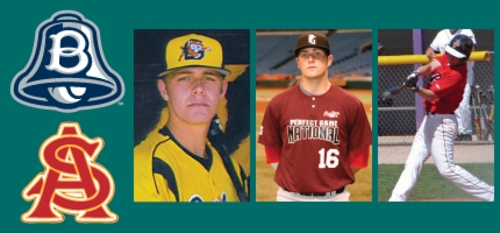 01/31/2012 12:45 PM
Bells Sign Three Sun Devils
The Bells have added three more players to the roster for 2012 from a very storied and historic Arizona State University program. Rouric Bridgewater, Nathaniel Causey, and Jake Peevyhouse will be playing in Bellingham this summer.
Rouric Bridgewater, a native of Pomona, CA where he attended Diamond Ranch High School, is currently a freshman at Arizona State. As a junior in high school in 2010, Bridgewater set school records with 10 home runs and a .580 batting average. "Rouric is a very talented first baseman with a bright future ahead of him. We will see excellent run production from him this summer," says Bells assistant coach Bill Calkins.
Nathaniel Causey is from Gilbert, AZ where attended Gilbert High School and is currently a freshman at ASU. The 6'2" catcher batted .493 during his senior season while slugging 14 home runs. The outstanding season resulted in him being drafted in the 46th round of the 2011 MLB Draft, however chose to go to school. Bells field manager Gary Hatch looks forward to working with Causey this summer saying, "Nate is a brick house stopper behind the dish. Our pitchers will love pitching to this guy. He is another hard core and durable competitor who can hit with power."
Jake Peevyhouse is from Phoenix, AZ and Pinnacle High School, is also a freshman for the Sun Devils. During his time at Pinnacle he earned four varsity letters in baseball while also making the All State team. "Jake has turned some heads already as a freshman outfielder during fall ball for the Sun Devils. He'll be one of our main contributors offensively as a tough left handed hitter who makes things happen on the base paths," says Hatch.