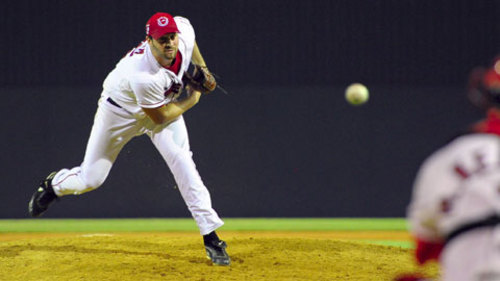 01/23/2012 4:57 PM
Former Bellingham Bells pitcher Jacob Clem has been playing baseball professionally down in Australia for the Perth Heat of the Australian Baseball League. The Heat are leading their division with a 34-11 record and are preparing for post season play which starts January 26th.
In Clem's most recent appearance, he was brought out of the bullpen in the 9th inning of a tied ball game tasked with keeping the game close. Not only did Clem keep the game close, but he lasted 7 innings on the mound allowing just two hits, eventually earning the win after a teammate hit a walk off home run in the 15th inning.
Not only was it an incredibly gutsy and impressive performance, but Clem's parents (Bells pitching coach Jim Clem and his wife Annette), made it down just in time to see the game in person. It was a tremendous thrill for the family to experience together.
For the full story and video highlights, please click the link: http://web.theabl.com.au/news/article.jsp?ymd=20120121&content_id=26406226&vkey=news_t4068&fext=.jsp&sid=t4068