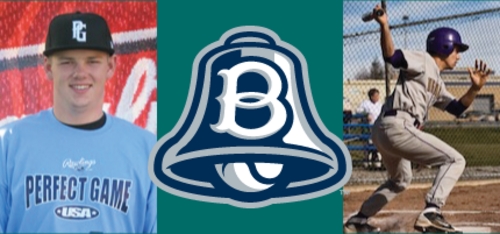 01/23/2012 11:44 AM
The Bells have added two more players to the roster for 2012 in the form of high school seniors who have commitments to play in the Pac 12 during the 2013 school year. Will Ballowe and Jonny Locher will be coming to Bellingham this summer.
Will Ballowe, a native of Danville, CA and currently a senior at San Ramon Valley High School, is set to pitch for the University of Washington next fall. As a junior in high school in 2011, Ballowe struck out 75 batters in 62 innings with a 1.80 ERA. He will be the fourth player on the Bells from the UW. "Everything we have heard about Will, makes us believe he is ready to pitch in this league. At 6'4" 225 lbs., Will is a BIG lefthanded pitcher. He has a good fastball, curveball, and change-up. It will be fun to watch Will develop through the summer," says pitching coach Jim Clem.
Jonny Locher is from Burien, WA where he is attending Highline High School and has committed to play at Stanford in 2013. The 6'0" outfielder batted .630 during his junior season including 20 stolen bases while striking out just once. Locher has been a stand out for quite some time, playing on the USA 14U National team in 2008. Clem looks forward to working with Locher this summer saying, "Jonny is an accomplished switch-hitter who runs well and is a good very defender in the outfield. We expect Jonny to be a very exciting player for Bells fans to watch as he has outstanding skills both offensively and defensively."