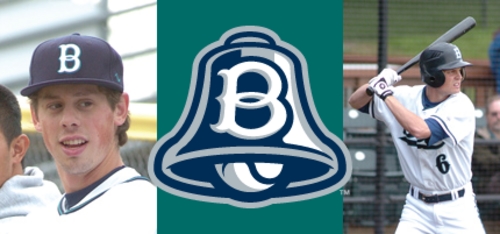 12/06/2011 10:51 AM
Duo of Infielders Return for 2012 Season
The Bells will bring back two more players for 2012 in shortstop Kai Hatch and third baseman Danny Poplawski. This now gives the Bells a total of four returning players for 2012 to serve as the team's foundation and set the tone for incoming players.
Kai Hatch, a 6-foot-2-inch 175 pound junior at Utah Valley College, will return to his hometown of Bellingham to play for the Bells again next season. Last summer, Hatch hit .238 with 17 RBI and recorded the highest number of at-bats in the entire West Coast League with 210. This will be Hatch's third season with the Bells after also playing in 2008 before going on a two year mission. "Kai is a solid defender at shortstop and a very tough out at the plate," said pitching coach Jim Clem.
Danny Poplawski returns for his second season with the Bells. The 6'2" Poplawski is currently a junior at Georgetown University where he started 12 games for the Hoyas during the 2011 season. Last summer, Poplawski was versatile for the coaching staff as he was able to play both 1B and 3B when called upon in addition to showing some power. Clem says "Danny brings experience and maturity to our ballclub. With this being his second summer with the Bells, we expect that Danny will surface as one of the leaders on our team." Overall, this will be Poplawski's third season in the West Coast League after playing for Walla Walla in 2010.
About the Bellingham Bells:
The Bellingham Bells are a summer, wood bat, collegiate baseball team that plays in the West Coast League (www.wccbl.com). The Bells play their home games at Joe Martin Field in Bellingham and their field staff includes Gary Hatch (Head Coach), Jim Clem (Assistant Coach/Pitching) and Bill Calkins (Assistant Coach). Former Bells players who have spent time in Major League Baseball include: Jeff Francis (Colorado Rockies), Kevin Richardson (Texas Rangers), Ty Taubenheim (Toronto Blue Jays) and Marc Rzepczynski (St. Louis Cardinals).