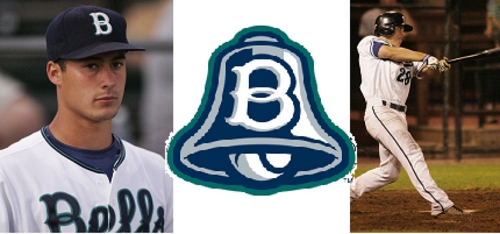 11/29/2011 11:46 AM
The Bellingham Bells announce the return of two former players for the upcoming 2012 season. Left-handed pitcher Jacob Coats and outfielder Derek Atkinson have signed West Coast League contracts with the Bells for a second season. Bells General Manager Nick Caples is looking forward to having both players back in Bellingham for the summer, saying "by all accounts, Jacob and Derek are two very high character young men who will do a great job representing the Bells both on and off the field."
Coats, a 6-foot-4-inch 195 pound pitcher from Twin Falls, Idaho, is a junior at the University of Washington. During his senior season at Twin Falls High School, Coats was named Idaho's Gatorade Player of the Year and the Louisville Slugger Player of the Year after going 8-2 with a 1.79 ERA and 86 strikeouts in 56 innings, while batting .432 with four home runs and 24 RBI. Coats' freshman year was played at College of Idaho where he posted a 3.34 ERA in 72 innings before transferring to Everett CC for his sophomore season. The lefty sat out much of last season with the Bells due to injury.
Atkinson comes back to the Bells after another year at Clackamas Community College where he hit .308 last season and was named 2nd-team All-NWAACC and 2011 All-Southern Region Second Team. Atkinson played right field for the Bells in 2011 and hit .257 with 11 RBI in 105 at bats. The 5-foot-11-inch outfielder is going into his sophomore season at Clackamas CC, and has signed a letter of intent to the University of San Francisco in 2013. Manager Gary Hatch says "Derek established himself last summer as a fine hitter and outfielder. He brings an intensity to the ball park every day that is fun to watch."