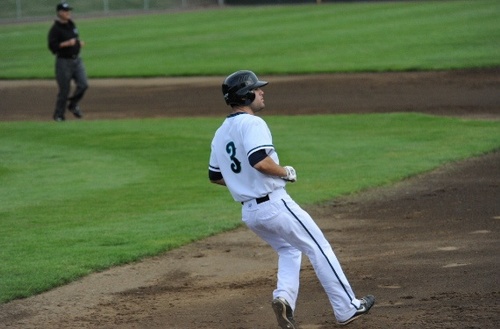 08/09/2011 11:01 PM
After taking a big lead early in the game, the Kelowna Falcons went on to beat the Bells 10-4 Tuesday.
Kelowna jumped ahead with three runs in the second inning. Brandon Lee began the scoring with an RBI single that brought in Kyle Pearson. Nick Colwell subsequently scored on a fielder's choice and Ben Swinford crossed the plate after an error.
The Falcons added three more in the third to go ahead 6-0. Bo Folkinga and Kyle Pearson both scored before Swinford crossed home again, this time on a Brandon Lee single. Swinford, who had four hits and the game-winning RBI on Monday, went two-for-three.
Brandon Marris kept the Bells offense at bay through the first six innings; Kyle Pearson added three more runs in the bottom of the sixth with a three-run home run.
The Bells got on the board in the seventh on a run scored by Kai Hatch, who led off the inning with a double. Hatch advanced to third on an error and scored on a double play.
Bellingham continued to rally with three eighth-inning runs. With one out, Hatch brought in Ben Grubb on a fielder's choice. Pat Gallagher then doubled, scoring Hatch and Derek Atkinson.
With the loss, the Bells are now 21-32 on the season. They will play Kelowna at 6:35 p.m. Wednesday in their final game of the season.