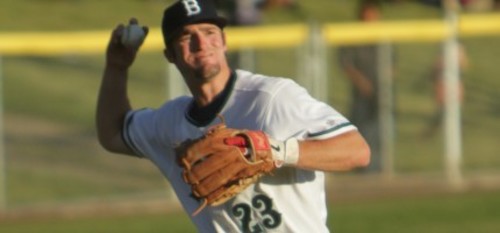 08/09/2011 12:22 AM
An RBI single by Ben Swinford in the bottom of the tenth inning lifted Kelowna to a 4-3 win Monday, eliminating the Bells from playoff contention.
The Bells trailed the majority of the game after Kelowna scored two runs in the third inning. Jeff Melby reached on an error with one out and advanced to third on a single by Victor Razor-Thompson, who ended up at second on the throw. Beau Hanowski then delivered a two-run single to put his team ahead 2-0.
The game turned into a pitcher's duel between Ethan Miller and the Bells Richie Ochoa. In six innings, Ochoa allowed two runs, only one earned, while holding Kelowna to six hits and a walk.
Miller had the Bells flummoxed until Bellingham put together an eighth inning rally. Ben Grubb singled to lead off the inning and moved over a base on a sacrifice bunt by Bobby Twedt. Following an Andy Fortuna hit by pitch and infield single by Kai Hatch, Bellingham loaded the bases.
Derek Atkinson then put the Bells ahead for the second day in a row, hitting a chopper through the right side of the infield that scored two runs. The throw to the plate got away from the catcher, allowing Hatch to score and give the Bells a 3-2 lead.
After retiring the side in the eighth inning, Nick Palewicz took to the mound in the ninth and gave up a leadoff double to Swinford. Andrew Firth was then hit by a pitch and Jeff Melby advanced both runners with a sacrifice bunt. Swinford eventually scored on a wild pitch, tying the score. Palewicz extended the game by striking out two straight hitters with the bases loaded.
The Bells were retired in order in the top half of the tenth before Nick Colwell hit a leadoff double for the Falcons. Brandon Lee got him to third on a sacrifice bunt before Swinford ended the game with a soft line drive to left field, his fourth hit of the game.
Though Walla Walla lost, the Bells are now mathematically eliminated from the playoffs. They will play at Kelowna in game two of the three-game series at 6:35 p.m. Tuesday.