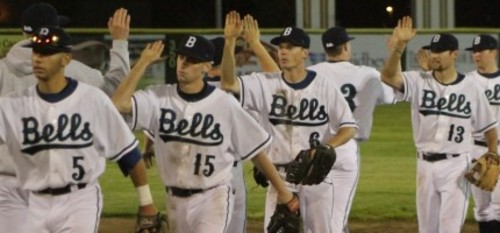 08/07/2011 11:53 PM

With starting second baseman Danny Poplawski in the hospital, the Bells scored four runs in the ninth to come back and beat Wenatchee 11-9 Sunday in a must-win game.
The game was tied at four through six innings before a flurry of momentum changes ensued. Pat Gallagher singled to begin the inning and eventually scored on a base hit by Jerry McClanahan.
With runners on first and third and one out, Danny Poplawski was hit in the side of the helmet on an 0-2 pitch. Poplawski was on the ground for about five minutes, eventually walking back to the dugout on his own strength.
Following that scary incident, the AppleSox got the second out of the inning before Kai Hatch came through with a bases loaded, two-run single to give the Bells a 7-4 lead.
Wenatchee answered in a big way in the bottom of the seventh, however. Brock Gates got an RBI fielder's choice and with two outs and men on second and third, Eric Filia-Snyder hit a three-run home run over the right field wall to put his team back ahead. The AppleSox made it 9-7 on an RBI single by Conner George.
After a scoreless eighth inning, the Bells were down to their final chance in the ninth. Ryan Somers and Bobby Twedt both singled to the outfield before Nick Rulli bunted for a base hit that loaded the bases and brought Hatch to the plate with no outs.
Hatch hit a bloop single over shortstop that scored Somers and brought the team within one. Derek Atkinson then came through with one of the Bells biggest hits of the year, a three-run triple that put the squad ahead 11-9.
Nick Palewicz sealed the game by retiring Wenatchee in order in the ninth inning, recording his third win of the year. Palewicz allowed only one base runner during his two innings of work.
Jerry McClanahan led the Bells with three hits. Hatch, Atkinson, Aquino, Somers, and Poplawski each had two hits, part of a 16-hit night for Bellingham.
X-rays on Poplawski were negative; he has swelling in his neck and jaw area.
In order for the Bells to make the playoffs, they must win their remaining three games and have Wenatchee record a three-game sweep of Walla Walla. Bellingham will begin their final regular season series at Kelowna Monday with first pitch scheduled for 6:35 p.m.