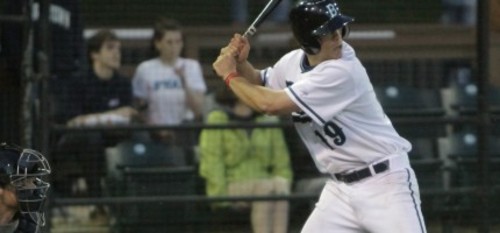 08/06/2011 11:41 PM
The Wenatchee AppleSox took command of Saturday's game with a seven-run second inning, going on to beat the Bells 8-3.
It was a promising start for Bellingham as they took a 1-0 lead in the first inning. Eric Lane led off the game with a chopper up the middle and with two outs, Pat Gallagher stroked a base hit through the right side of the infield to score Lane.
Though Pat Valaika of Wenatchee flew out to begin the second inning, seven subsequent AppleSox hitters reached base. After an RBI by both Aaron DeGuire and Conner George, Breland Almadova hit a single up the middle to score two more. The last three runs of the inning came on errors.
Wenatchee tacked on one more run in the third inning on a sacrifice fly by DeGuire. Bells starting pitcher Kyle Schepel would go on to retire ten batters in a row.
The Bells made a valiant comeback effort, beginning with a run in the fourth. Ben Grubb started things off with an infield single and moved over to second after an error on a ground ball hit by Bobby Twedt Jr. Wenatchee then got two consecutive outs before Grubb scored on another error.
Lane and Derek Atkinson had consecutive singles to lead off the seventh inning and with two outs, Michael Aquino singled to score Lane and make the score 8-3.
Though the Bells threatened in the ninth inning with men on first and second and no outs, AppleSox closer Owen Jones got a flyout and double play to end the game.
Aquino, Lane, and Atkinson had two hits each for the Bells. Relief pitcher Jack Vander Linden got out of a bases-loaded jam in the seventh inning and pitched one and a third scoreless innings.
The Bells will complete the three-game series at Wenatchee on Sunday with a game that begins at 6:05 p.m.