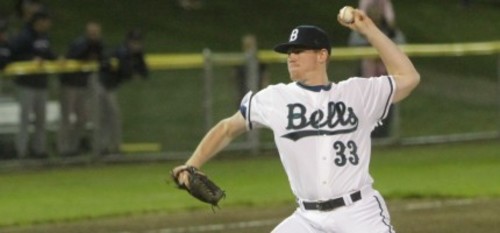 08/05/2011 12:47 AM
The Bells first-inning run wasn't enough as Kitsap scored three runs in both the fourth and fifth innings to win 6-1 Friday night in the Bells final regular season home game.
Bellingham hit the ball well early, starting with a Michael Aquino line drive single over third base with one out in the first inning. Aquino moved over to third base on a stolen base and wild pitch before Eric Lane brought him in with an RBI single.
The BlueJackets capitalized on a trio of Bells errors to score three runs in the fourth. After Cole Norton led off the inning with a single, two consecutive Kitsap hitters reached base after throwing errors on bunt attempts, scoring two runs. Matt Forgatch would later cross home on a wild pitch to make it 3-1.
The Bells allowed three more unearned runs in the fifth, starting when Robby Witt took home on a double steal with men on first and third and two out. After a Bells error, Andrew Biancardi blooped a two-run single into left field.
Tyler Spear started on the mound for the Bells and was outstanding, allowing only one base runner in three innings. Spear recorded eight ground ball outs and lowered his ERA to 2.96 on the season.
Despite the loss, it was a very spirited atmosphere at Joe Martin Field. There were 1,130 people in the stands, the most for any Bells game this season. The crowd was lively throughout the evening and enjoyed a fireworks show after the game.
The Bells will complete the regular season with a six-game road trip, beginning tomorrow in Wenatchee. First pitch is scheduled for 7:05 p.m.