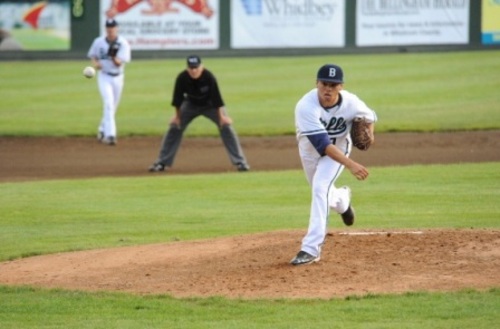 08/03/2011 10:56 PM
A Matt Forgatch RBI single and timely pitching by the Kitsap BlueJackets enabled them to win a suspenseful 1-0 game over the Bells Wednesday at Joe Martin Field.
The Bells threatened throughout the game, with their first serious opportunity coming in the third inning. After two consecutive outs, Andy Fortuna and Eric Lane hit back-to-back singles and Kai Hatch was hit by a pitch, loading the bases. Derek Atkinson then rocketed a ball up the middle that seemed destined for the outfield. However, it deflected off the pitcher and went right to the second baseman, who recorded the putout.
In the next inning, Bellingham got consecutive two-out hits again but Jerry McClanahan and Nick Rulli were both stranded. The Bells loaded the bases on three walks in the fifth inning but were unable to convert.
Kitsap finally broke through with the game's first run in the seventh. Andrew Biancardi led off the inning with a single and stole second during Chris Murphy's at-bat. Murphy moved Biancardi over to third with a groundout. With the Bells infield in, Matt Forgatch hit a single through the infield, scoring Biancardi.
The Bells kept battling, however. Michael Aquino powered a ball to the left-field wall for a one-out double in the eighth inning and Jerry McClanahan drew a walk before Kitsap got the last two outs of the inning. Ben Grubb led off the ninth inning with a walk before BlueJackets closer Matt Cartwright retired the next three hitters to end the game and earn the save.
Bells starting pitcher Andrew Pulido had another superb outing, allowing only one run on three hits in nine innings. Pulido didn't allow any walks or hit batters and struck out seven.
The Bells final regular-season home game will begin at 7:05 p.m. Thursday against Kitsap.