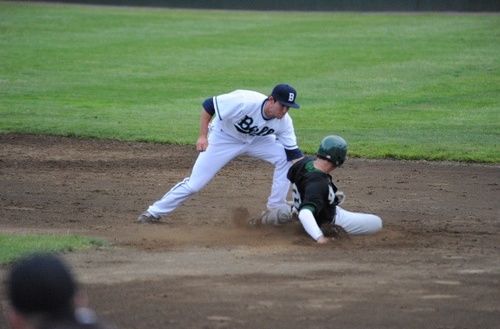 08/02/2011 11:18 PM
After seven scoreless innings, the Kitsap BlueJackets scored a run in both the eighth and ninth, beating the Bells 2-0 in the series-opening contest.
Kitsap broke the scoreless tie amid great controversy. Shane Colbert had a bunt single with two outs and stole second on a close play. The next hitter, Matt Forgatch, hit a chopper to Bells first baseman Pat Gallagher, who bobbled the ball but recovered and tossed to pitcher Carsen Nylund at the first base bag, seemingly in plenty of time.
However, the umpire ruled that Nylund never had possession of the ball, much to the dismay of the Bells faithful. Colbert came around all the way from second to make it 1-0.
The Blue Jackets continued to play aggressively in the ninth inning, as Chris Murphy led off with a bunt single. Following a Jonathan Barton walk, Kitsap's coach called a successful double steal, putting runners on second and third. After fouling away a suicide squeeze attempt, Todd Dalrymple eventually walked, loading the bases. Pinch-hitter Colin Feldtman then successfully executed a squeeze bunt, scoring Murphy.
After threatening at multiple points in the ballgame, the Bells were unable to get anything going in the ninth inning against BlueJackets closer Matt Cartwright. Cartwright retired the side for his eighth save of the season.
Despite the loss, the Bells got another excellent outing from starter Richie Ochoa. The left-hander pitched seven scoreless innings, striking out four while allowing four hits. Ochoa's ERA is now 1.67.
The Bells greatest scoring opportunity against Kitsap starting pitcher Blake Golding came in the seventh inning. Bellingham loaded the bases on successive two-out singles from Ryan Somers, Danny Poplawski, and Nick Rulli. The BlueJackets then induced an inning-ending fielder's choice, however.
With a loss by Walla Walla, the Bells remain tied for the East Division's final playoff spot with eight regular-season games remaining. Bellingham will next play Kitsap at 7:05 p.m. on Wednesday at Joe Martin Field.