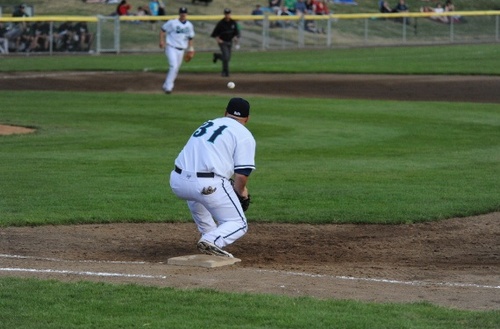 07/31/2011 11:11 PM
Zane Yanzick scored Kai Hatch on a perfectly executed suicide squeeze bunt in the tenth inning, lifting the Bells to a 5-4 victory Sunday over the WCL-leading Wenatchee AppleSox.
The Bells got off to a red-hot start, scoring three runs on five hits in the second inning. After base hits by Michael Aquino and Nick Rulli to begin the inning, Ben Grubb scored Rulli on a single. Andy Fortuna brought in another run on a bunt single and Eric Lane followed with an RBI single to right field.
Bells starter Kolton Emery was untouchable in his first four innings but Wenatchee finally got a run in the fifth. After two straight outs, Breland Almadova and Erik Munzer singled, setting the stage for an Adam Nebulowich RBI double.
The Bells tacked on another run in the bottom half of the inning. With Kai Hatch on first and Andy Fortuna on third, Manager Gary Hatch called a double steal. Fortuna scored on the throw down to second base.
However, Wenatchee tied the game with three runs in the sixth. Aaron DeGuire and Conner George both got RBI singles and Nebulowich brought in a run after being hit by a pitch with the bases loaded. A nice defensive play by Pat Gallagher on a hard-hit grounder by the next hitter prevented the ApppleSox from taking the lead.
Both teams had prime scoring opportunities in the ninth inning. Wenatchee loaded the bases with two outs before Nick Palewicz struck out DeGuire on a 3-2 pitch. The Bells had first and second with two outs when their leading hitter, Lane, flew out to right field.
The Bells loaded the bases in the tenth when AppleSox pitcher Ben Ruff hit Hatch and Aquino and walked Gallagher. As Hatch dashed home, Yanzick squared around and laid down an excellent bunt towards first base. By the time Wenatchee's first baseman reached the ball, Hatch had already crossed the plate.
Emery had a good start for the Bells, allowing two earned runs in five innings while striking out four. Palewicz got the win after throwing two and two thirds innings with four strikeouts.
With the Bells win and a loss by Walla Walla, Bellingham now has a one-game lead for the final playoff spot in the WCL's East Division.
The Bells and AppleSox will square off in the rubber match of the three-game set at 7:05 p.m. at Joe Martin Field on Monday.