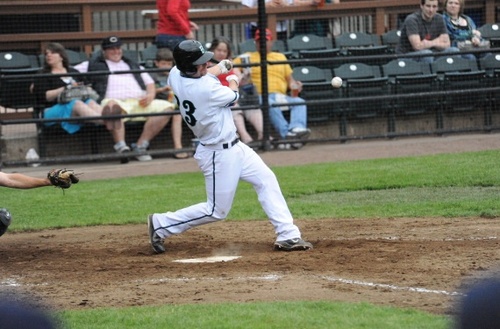 07/29/2011 11:25 PM
The Cowlitz Black Bears forged an early lead and never looked back, beating the Bells 9-0 Friday in the finale of the three-game series.

Greg Velazquez scored the game's first run on a throwing error in the second and the Black Bears strung together four two-out hits in the third to bring in four more runs. Spencer O'Neil got an RBI on a bloop single before a Bells error allowed Cowlitz to prolong the inning. Beau Didier followed with a two-run double and Mike Bush scored Didier on an infield single.

The Black Bears added four more runs in the middle of the game to put it out of reach. Kyle Garlick hit a solo home run in the fifth and added a two-run triple in the seventh. Kevin Schwartz brought in the game's final run with a pinch-hit RBI single.

The Bells biggest threat came in the second inning. With one out, Bellingham got consecutive singles from Nick Rulli, Michael Aquino, and Danny Poplawski to load the bases. However, Cowlitz pitcher Kevin Bosson was able to get out of the jam.

Bells starter Adrian Sampson went five innings, striking out seven and allowing two earned runs. Leko Galusha pitched two scoreless in his relief appearance.

The Bells are now 19-23 but with Walla Walla's loss, Bellingham maintains a one-game lead for the final playoff spot in the WCL's East Division.
The Bells have 12 regular-season games remaining and they return home to resume action Saturday against the league-leading Wenatchee AppleSox. First pitch is scheduled for 7:05 p.m. at Joe Martin Field.