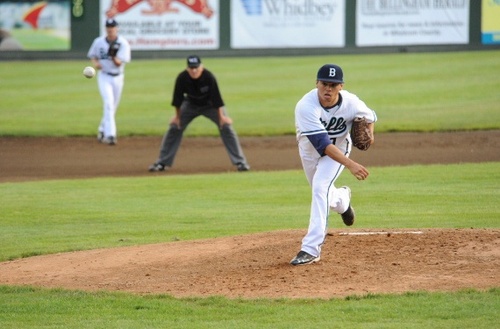 07/28/2011 11:04 PM
A pinch-hit double by Kevin Schwartz in the 12th inning scored the winning run and lifted the Cowlitz Black Bears to a 6-5 win over the Bells on Thursday night in a back-and-forth game.
The Bells got off to a roaring start with a trio of runs in the first. With runners on first and second and two outs, Ben Grubb singled in Kai Hatch. After Jerry McClanahan walked on a full count, Michael Aquino ripped a single into centerfield, scoring two more and putting the Bells ahead 3-0.
However, Cowlitz got two runs of their own in the first. Following a Kyle Garlick one-out single, Spencer O'Neil hit a two-run home run over the right-field wall.
The Bells increased their lead, getting a run in both the second and fifth innings. Derek Atkinson scored Eric Lane on an RBI double in the second and Grubb crossed the plate on a fifth-inning wild pitch.
Meanwhile, Andrew Pulido had another good outing on the mound for the Bells. Pulido rebounded from the O'Neil home run to go six innings, allowing only two runs while striking out five and allowing no walks.
Cowlitz applied the pressure in the seventh inning, however. The Black Bears loaded the bases and scored a run on a balk before O'Neil provided another two-run hit, this time a double.
The Bells bullpen came up with clutch pitching to prevent Cowlitz from doing any more damage. The Black Bears had runners on first and third with no outs in the seventh but Ryan Deeter retired the next three hitters.
Deeter pitched two shutout innings, as did Nick Palewicz, who didn't allow a single base runner. Mitch McQueen got out of a jam in the 11th inning to prolong the game.
However, Cowlitz ended the game in the 12th. Beau Didier reached base with a leadoff walk and advanced to second on a wild pitch. Kirk Cunningham was intentionally walked before Schwartz's game-winning hit, which barely landed fair down the right-field line.
The Bells got 12 hits in the ballgame, including three each from Lane, Hatch, and Aquino.
Bellingham is now 19-22 with a one-game lead over Walla Walla for the final playoff spot in the East Division. The Bells final game at Cowlitz will begin at 6:35 p.m. on Friday.