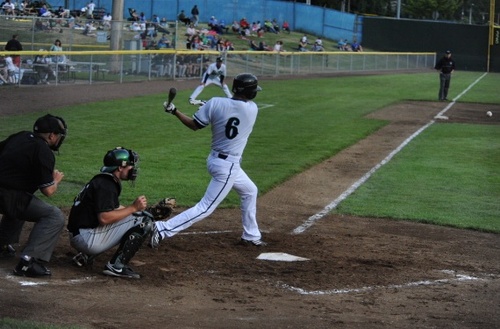 07/27/2011 10:26 PM
The Cowlitz Black Bears took an early lead against Bellingham and leaned on superb pitching Wednesday night, beating the Bells 5-1 to open the series.
The Black Bears took a quick 1-0 lead against the Bells, getting a run in the first inning. Braxton Miller led off the inning with a double and advanced to third on an error in the outfield. Miller scored when the next hitter, Kyle Garlick, singled into left field.
Cowlitz got another run in the fourth inning on a timely two-out hit. With Beau Didier on second base, Kirk Cunningham singled to right field, scoring Didier on a close play at the plate.
The Bells trimmed the deficit in half with a run in the fifth. Jerry McClanahan's nine-pitch walk put him on base with one out; the next hitter, Nick Rulli, moved him over to second on a groundout. Danny Poplawski then delivered with an RBI single to make it 2-1.
Cowlitz got some breathing room with two runs in the bottom half of the inning. Mitch Walding and Miller reached base on a single and walk, respectively, before Kyle Garlick struck out and Spencer O'Neill grounded out. With runners on second and third, Greg Velazquez lined a single into centerfield, scoring both runners.
The Black Bears got the game's final run in the eighth inning and ended the game by stifling a Bells ninth-inning rally.
Offensively, Derek Atkinson led the Bells with two hits. Brandon Boyle did an excellent job in relief, allowing no earned runs in two innings.
With a loss by Walla Walla, the Bells maintain a two-game lead over the Sweets for the final playoff spot in the WCL's East Division. Bellingham is now 19-21 and will play Cowlitz in game two of the three-game series at 6:35 p.m. on Thursday.