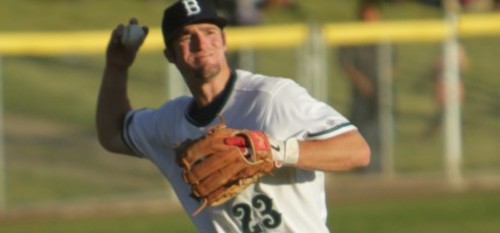 07/24/2011 12:05 AM
The Kelowna Falcons scored nine unanswered runs Saturday night, rallying to beat the Bells 10-7 and take game two of the three-game series.
The Bells got off to a very promising start, taking a quick 4-0 lead after the first inning. With one out, Kai Hatch singled and Derek Atkinson walked, setting the stage for a two-run double for Ben Grubb, who pushed his team-leading RBI total to 16. After a Michael Aquino walk, Grubb scored on an RBI single by Danny Poplawski. Aquino scored the last run of the inning on a Jerry McClanahan sacrifice fly.
Kelowna got on the board with an unearned run in the bottom of the first inning, making it a 4-1 ballgame. Bellingham would take a 7-1 lead after Eric Lane scored on a double steal in the second inning and Hatch ripped a two-run single in the fourth.
However, Kelowna put together a big rally in the bottom half of the fourth, scoring six runs to tie the game. Kyle Pearson led off the inning with a double and scored on a wild pitch, shortly before Dillon Bryant crossed the plate on a bases-loaded walk. Though Nick Colwell hit into a double play with the bases loaded, Kelly Norris-Jones scored on the play. Pearson singled in a run to complete the comeback.
Kelowna continued their hot hitting in the sixth, getting RBI singles from Greg Freisen and Kyle Pearson to take a two-run lead. The Falcons pulled off a successful double steal of their own in the seventh inning, making it 10-7 on what would be the last run of the game.
The rubber match of the three-game set will begin at 5:15 p.m. Sunday in Kelowna.