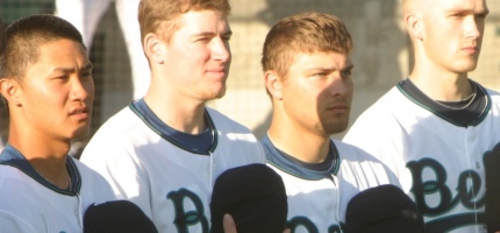 07/23/2011 12:43 AM
Buoyed by a four-run first inning and steady pitching, the Bells beat Kelowna 8-1 on Friday night, snapping a two-game losing streak.
After a single by Kai Hatch and a Derek Atkinson walk, the Bells had runners on first and second with one out in the first inning. Ben Grubb then brought Hatch in to score and Jerry McClanahan and Ben Grubb followed with RBI singles of their own. Bellingham made it 4-0 when McClanahan swiped home on a double steal.
The Bells added runs in each the third and fourth innings to stretch their lead to 6-0. Derek Atkinson reached base after a passed ball and came around to score in the third, and Eric Lane had an RBI single in the fourth.
Kelowna finally broke through for a run in the sixth when the Falcons got an RBI single that scored Keach Ballard. The Falcons then loaded the bases with one out but Bells starting pitcher Andrew Pulido was able to induce an inning-ending double play to keep the score 6-1 in favor of the Bells.
Pulido had another great outing for the Bells, allowing only one run in six innings. The right-hander is now 2-0 on the year.
The Bells added two more insurance runs in the ninth inning. The leadoff hitter, Andy Fortuna, reached base after a passed ball on a strikeout; Hatch followed with a single to give the Bells runners on first and second. Atkinson then scored Fortuna on a single to right field; Hatch crossed the plate after the throw from right field got past the third baseman.
The Bells got three scoreless innings from their bullpen in another stellar performance. Mitch McQueen got three strikeouts in his two innings and escaped an eighth inning one-out jam when runners were on second and third. Jack Vander Linden got a double play in the ninth to end the game.
Hatch, McClanahan, Gallagher, and Marshall Yanzick all had two hits for Bellingham.
With the win, the Bells move to 19-18 on the year. They will play Kelowna in Game two of the three-game series tomorrow at 6:35 p.m.