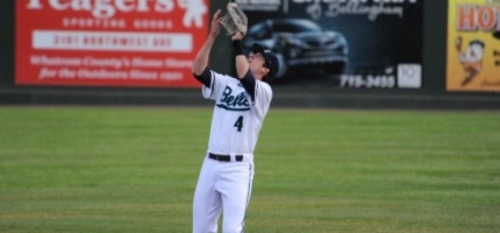 07/20/2011 11:56 PM
Nick Hoover allowed only two hits in seven scoreless innings Wednesday evening, helping his Corvallis Knights to a 4-0 defeat of the Bells.
Early in the game, Hoover was engaged in a pitcher's duel with Bells starter Kyle Schepel. Both starters pitched four scoreless innings before Corvallis rallied in the fifth.
Kramer Scott and Matt Nylen led off the inning with a single and walk, respectively, before Connor Hoffmann advanced them each a base with a sacrifice bunt. Schepel struck out the next hitter, Trent Oleszczuk, before Corey Moore delivered a two-run, two-out single to give his team a 2-0 lead.
Corvallis tacked on another run in the seventh during an eventful inning. Corey Davis led off the inning with a single but was thrown out stealing by Bells catcher Jerry McClanahan. The next hitter, Kramer Scott, hit a ball to the right-field wall. Derek Atkinson ran into the wall and nearly made a highlight-reel catch but Scott ended up on third with a triple. Matt Nylen brought him in to score with a sacrifice fly.
Corvallis got the last run of the game on another sacrifice fly in the eighth inning. David Armendariz led off with a walk and stole second before advancing to third on a fly ball to right field. Sean Myrom followed with another pop fly to right and Armendariz scored on a close play at the plate.
Jimmie Sherfy came on in relief for Hoover in the eighth and retired the Bells in order; Mark Trentacosta did the same in the ninth inning to end the game.
Schepel went five innings for the Bells, allowing two runs on three hits while striking out four. Nick Palewicz pitched a scoreless ninth inning to lower his ERA to 0.96 on the season.
The Bells are now 18-18 and will travel to play Kelowna in a three-game series that begins Friday. The scheduled first pitch for that ballgame is 6:35 p.m.