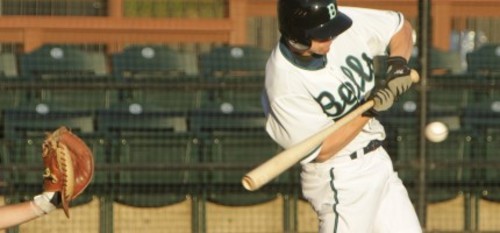 07/19/2011 12:29 AM
The Bells got season highs in both runs and hits Wednesday night, cruising to a 16-1 victory over the Corvallis Knights and their fourth straight win.
Bellingham started with a flurry, getting four runs in the first running. The Bells had the bases loaded with one out when Jerry McClanahan hit an RBI single into right field for the squad's first run. Michael Aquino followed with a three-run double to the right-center gap.
Corvallis got their lone run of the game in the top of the third on a Corey Davis single to make it a 4-1 game. However, the Bells got out of a one-out jam and Corvallis wouldn't get closer the rest of the contest.
The Bells bats continued to simmer as they answered with five runs in the bottom half of the inning. Kai Hatch led off with a double and scored on a Ben Grubb single. Jerry McClanahan followed with a two-run single and Aquino capped the inning with a towering two-run home run over the left-field wall, his second of the season, making the game 9-1.
Three more Bellingham runs scored in the fourth inning. After an Eric Lane double and Hatch groundout, Derek Atkinson, Grubb, and McClanahan got consecutive RBI base hits, pushing the Bells ahead 12-1.
There were no more runs until the eighth, when Bellingham scored four. Hatch had an RBI single, Ryan Somers hit a two-run double in his Bells debut, and Nick Rulli had an RBI groundout in his first game as a Bell.
Manager Gary Hatch decided to have a different pitcher throw each inning for the Bells. The pitcher-by-committee approach worked, as the Bells lowered their league-leading ERA to 2.09.
Bellingham had a whopping 18 hits for the evening with Lane, Hatch, Grubb, and McClanahan each contributing three.
With the win, the Bells are now 18-16 and have won 13 of their past 16 games. Bellingham leads Walla Walla by four games for the last playoff spot in the WCL's East Division.
The Bells and Corvallis will play Tuesday night at Joe Martin Field in game two of the three-game series. First pitch is scheduled for 7:05 p.m.