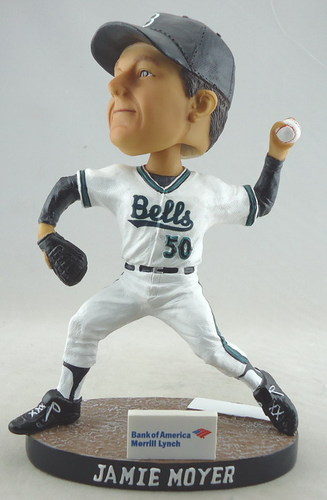 07/17/2011 9:21 AM
We hope you can join us on Wednesday, July 20th when we honor Jamie Moyer. A Bells advisory board member, Moyer has enjoyed a distinguished MLB career. Jamie has 267 career wins, made the 2003 All-Star Game, and won the World Series in 2008 as a member of the Philadelphia Phillies. Moyer has also been recognized with many awards for his philanthropy, including MLB's Roberto Clemente's Award.

Aside from celebrating Jamie's success on the field, the Bells will also be recognizing the incredible work that Jamie and his wife (Karen) have done throughout the country over the past 11 years through the non-profit foundation they co-founded, The Moyer Foundation (www.moyerfoundation.org). The mission of The Moyer Foundation is to empower children in distress by providing education and support - helping them to live a healthy and inspired life. For every ticket sold to this ballgame, the Bells will be contributing $1.00 to the foundation. This amount will also be matched by the Bells ownership.

The first 1,000 fans will receive a one-of-a-kind Jamie Moyer bobblehead in a Bells uniform, presented by Bank of America Merrill Lynch.
Make sure to purchase your tickets early as we anticipated great demand for this exceptional giveaway item! You can purchase tickets in three ways:

1) Call the Bells office (360-527-1035) and speak directly to one of our team members OR leave a voice mail message with your ticket request.
2) Purchase your tickets in advance and on-line via our team website (www.bellinghambells.com).
3) Arrive early to Joe Martin Field on game-day to avoid long lines. The Bells ticket office will open at 4:00 PM so that you can purchase tickets or pick-up your "will-call" tickets well before the crowd starts arriving.