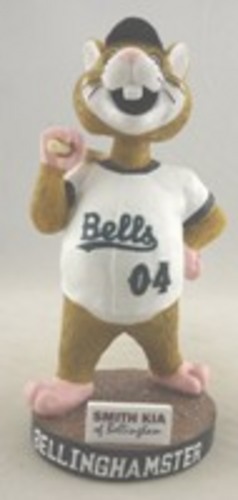 07/17/2011 9:14 AM
Throughout the season, there has been much buzz about the Bells brand-new mascot, Dinger. On Monday, July 18th, the much-anticipated Bells Mascot Bobblehead Giveaway, sponsored by Smith Kia of Bellingham, will occur at Joe Martin Field.

The first 1,000 fans through the gates receive this bobblehead featuring the Bells "Bellinghamster" mascot.

Make sure to purchase your tickets early as we anticipated great demand for this exceptional giveaway item! You can purchase tickets in three ways:

1) Call the Bells office (360-527-1035) and speak directly to one of our team members OR leave a voice mail message with your ticket request.
2) Purchase your tickets in advance and on-line via our team website (www.bellinghambells.com).
3) Arrive early to Joe Martin Field on game-day to avoid long lines. The Bells ticket office will open at 4:00 PM so that you can purchase tickets or pick-up your "will-call" tickets well before the crowd starts arriving.