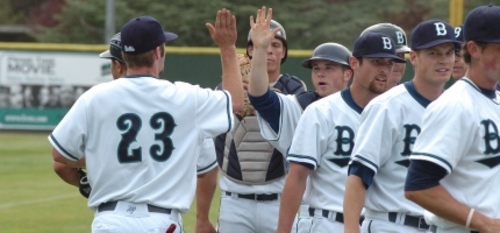 07/14/2011 11:07 PM
Bells pitcher Andrew Pulido flummoxed the Walla Walla Sweets Thursday night, allowing only two hits in seven scoreless innings to help the Bells win 3-0, their second consecutive victory over the Sweets.
Pulido had excellent control all night, not walking any hitters. The Sweets never had more than one runner on base and all they could muster offensively was a single by Kalani Brackenridge and double by Alex Stanford. With the win, Pulido is now 1-0 on the year with a 1.17 ERA.
Though the Bells had 10 or more hits for the second straight night, they didn't break through with their first run until the sixth inning, when Manager Gary Hatch put the game in motion. Eric Lane led off the inning with a single and after a Kai Hatch putout, he was moved over to third on a single by Derek Atkinson.
With Ben Grubb at the plate, Hatch called a double steal and Atkinson stole second while Lane swiped home. The Bells weren't done, though, as Michael Aquino delivered a clutch two-out single to score Atkinson and make the score 2-0 Bells.
Bellingham added an insurance run in the eighth inning to make it 3-0. After Jeff Gelalich led off the inning with a pinch-hit double, a groundout and walk gave the Bells first and third with one out. Atkinson then grounded into a fielder's choice, beating the throw to first to allow pinch-runner Zane Yanzick to score.
Nick Palewicz came on in relief for Pulido and pitched two scoreless innings to end the ballgame. Palewicz struck out two and did not allow any hits.
With the win, the Bells improve to 16-16 on the year and move four games ahead of the Sweets for the second and last playoff spot in the WCL's East Division. The teams will complete their three-game series Friday night with a 7:05 p.m. game at Walla Walla's Borleske Stadium.