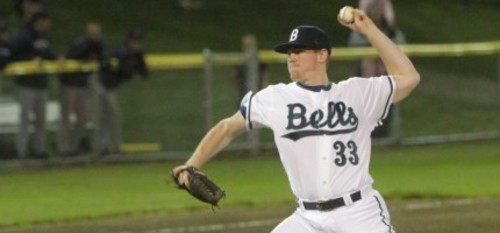 07/14/2011 10:37 AM
Five starters had multi-hit games for the Bells on Wednesday night, helping the team defeat the Walla Walla Sweets 5-2 at Borleske Stadium in the first game of an important three-game series.
After five scoreless innings by both teams, the Bells scored two runs in the sixth. Kai Hatch reached on an error to lead off the inning and scored when the next hitter, Derek Atkinson, tripled. Atkinson scored later in the inning on a Michael Aquino single as the Bells took a 2-0 lead.
The Sweets bounced right back in the bottom half of the inning. With one out, Walla Walla loaded the bases on singles by Chance Kopacz and Scott Gottschling and a walk by Kevin Williams. Kopacz scored on a fielder's choice by Kalani Brackenridge, trimming the Bells lead to 2-1.
Bellingham answered with three in the seventh, all during an at-bat by Pat Gallagher. Three Bells singles loaded the bases for Gallagher and they got their first run of the inning when Eric Lane stole home. Gallagher eventually singled on a 2-2 pitch, scoring Hatch and Ben Grubb to make the score 5-1.
It remained a 5-1 ballgame until the bottom of the ninth inning, when Ryan Deeter came in to pitch for the Bells. Kopacz got a two-out RBI single but Deeter promptly struck out Gottschling to end the game.
Richie Ochoa got the win on the mound for the Bells, pitching five scoreless innings in the start. Eight of the Bells nine position players had base hits.
With the win, the Bells now lead Walla Walla by three games for the second and final playoff spot in the East Division of the West Coast League. The teams will play Saturday and Sunday in their last two scheduled regular-season meetings of the year.