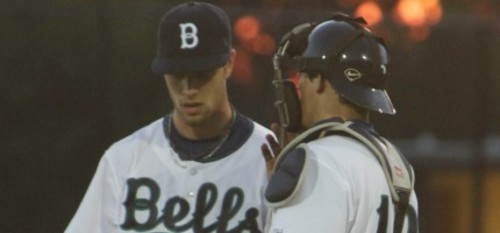 07/12/2011 12:27 AM
Unable to make a late comeback, the Bells lost 4-1 to the Alaska Goldpanners in a non-league game at Joe Martin Field on Monday night.
In the top of the first inning, the Goldpanners loaded the bases on three walks and got a two-out single from Matt Ivanoff to score leadoff hitter Chris Pfau and give Alaska a 1-0 lead.
Bells starting pitcher Chris Howard successfully got out of jams in the second and third inning to keep it a 1-0 ballgame. Howard gave up one earned run on two hits in his three innings of work.
The Goldpanners added a run in both the fourth and fifth to take a 3-0 lead. Andy Peterson singled Cody Slader home in the fourth and Mike Vaughan hit a sacrifice fly to bring in Mac Acker in the fifth.
Meanwhile, Matt Milke was effective on the mound for the Goldpanners in the first five innings, holding the Bells scoreless on two hits.
However, Derek Atkinson put a charge into a Milke pitch to lead off the sixth inning, sending it over the wall in right-center field for his first home run as a Bell and the Bells second long ball of the season at Joe Martin Field.
The Goldpanners refused to allow the Bells to continue the momentum, however, holding them scoreless the rest of the way. Alaska also added an RBI infield single from Robbie Buller in the eighth inning to give them a 4-1 lead.
Bellingham had some great defensive plays in the late innings of the game. On Buller's infield single, Bells third baseman Eric Lane charged the ball and faked a throw to first, catching a Goldpanner in a rundown between third and home.
Pat Gallagher displayed his instincts at first base in the ninth, making a leaping catch to snag an Ivanoff line drive before doubling off Acker at second base.
The loss does not count against the Bells record and the 14-16 ballclub will now have a day off before traveling to Walla Walla for a three-game series. First pitch on Wednesday night is scheduled for 7:05 p.m. at Borleske Stadium.