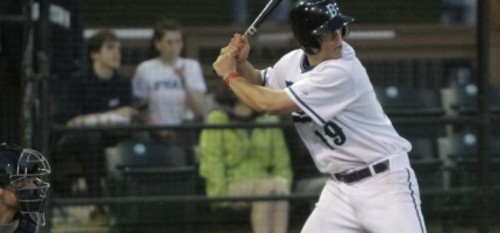 07/09/2011 11:08 PM
Led by timely hitting, the Bend Elks beat the Bells 7-2 on Saturday in game two of the three-game set.
After three scoreless innings, the Elks took a 2-0 lead in the top of the fourth. Michael Benjamin Jr. reached on an error to begin the inning and eventually scored on a wild pitch. Ryan Dunn's RBI single scored Stetson Olson for the second run of the inning.
Bellingham cut the lead in half with a run of their own in the bottom half of the inning. Derek Atkinson singled and got to second on a Ben Grubb groundout. With two outs, Pat Gallagher ripped an RBI single to the wall, scoring Atkinson.
However, Bend came back by putting up three runs on Bellingham in the fifth. With the bases loaded and two outs, Tyler Christian hit a single up the middle, scoring two Elks base runners. Stetson Olson followed with an RBI single of his own to make it a 5-1 game.
That would end up being the last inning for Bells starter Adrian Sampson, who entered the game with a league-leading 0.23 ERA. Sampson allowed five runs total, three earned, in his five innings. The Elks got five hits against Sampson, who struck out seven hitters.
Both teams got a run in the sixth inning. Justin Maffei singled in Michael Tevlin in the top half of the inning and the Bells answered in the bottom half when Derek Atkinson doubled and scored on a Michael Aquino double.
Bend scored a run on a wild pitch in the eighth inning and ended the game after two scoreless innings from Brandon Brennan.
Stephen Ostapeck, getting his first start of the season, received the win after allowing one run in five innings. Ostapeck struck out four and allowed four hits.
Jack Vander Linden continued his stellar pitching for the Bells, throwing a scoreless ninth inning. Vander Linden, who redshirted at Georgetown this past college season with an arm injury, retired the side with one strikeout.
The rubber match of the three-game series will be held Sunday at Joe Martin Field. First pitch is scheduled for 6:05 p.m.