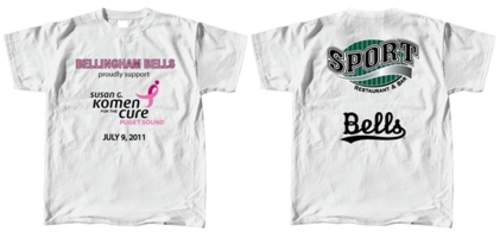 07/08/2011 2:45 PM
Saturday, July 9 will be a truly special evening at Joe Martin Field… This will be our Breast Cancer Awareness Night. For each ticket purchased to this game, the Bells will make a $1.00 donation to the Puget Sound affiliate of Susan G. Komen. In addition, Bells ownership will match the amount raised through ticket sales and will also contribute these funds to the Puget Sound affiliate of Susan G. Komen.

The Bells will be wearing one-of-a-kind game hats that combine the breast cancer awareness pink and the Bells navy blue. These hats will be auctioned off to fans (via a silent auction) during the game. The winning bidders will not only receive the hats, but they will get to meet the player whose hat they purchased and get their picture taken with them. The Bells will donate 100% of the money raised through this auction to Susan G. Komen.

In addition to the proceeds from this night benefitting the Puget Sound chapter of Susan G. Komen, there will be a t-shirt giveaway for the first 1,000 fans through the gate at Joe Martin Field. Fans will want to make sure to arrive early for a truly unforgettable night.