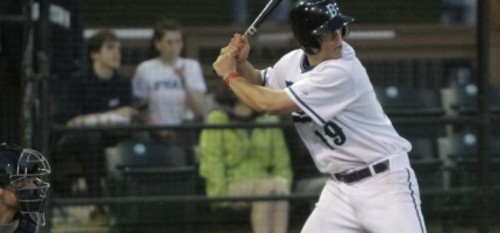 07/06/2011 11:38 PM
The Bells pitching staff threw a shutout Wednesday evening, allowing only four hits in a 2-0 victory over the Walla Walla Sweets, Bellingham's eighth win in a row.
Richie Ochoa started on the mound for the Bells and threw six scoreless innings. Ochoa struck out five and yielded only four hits. With pinpoint command, the big left-hander didn't walk a single hitter.
The Sweets were only able to muster one serious threat against Ochoa when Austin Heaps and Goose Kallunki singled to begin the second inning. However, Ochoa got a strikeout and two popouts to end the inning.
Meanwhile, Bellingham struck in the first inning yet again. With one out, Kai Hatch singled, Jeff Gelalich doubled, and Ben Grubb walked, loading the bases. Pat Gallagher then scored Hatch on a sacrifice fly, putting the Bells ahead 1-0.
The game turned into a pitcher's duel as Walla Walla starting pitcher Ryan Richardson settled down and held the Bells scoreless over the next four innings.
However, Michael Aquino sent a jolt through the stadium in the sixth inning with a home run over the left field wall, pushing the Bells lead to 2-0. The home run was Aquino's first of the year and the Bells first home run of the season at Joe Martin Field. Aquino continues to swing a red-hot bat and after two hits on Wednesday, is now 9-17 in his last five games.
J.R. Bunda got his first pitching appearance in 24 games when he entered in relief in the seventh inning. Bunda worked around a walk to pitch a scoreless inning, as did Brandon Boyle in the eighth.
After two saves in three nights by Nick Palewicz, Carsen Nylund came in for the ninth inning and retired Walla Walla in order for the save.
With the win, Bellingham moves to .500 on the year at 13-13. The Bells now lead Walla Walla by four and a half games for the last playoff spot in the WCL's East Division.
The last game of this three-game set between the two teams is scheduled for 7:05 p.m. on Thursday.