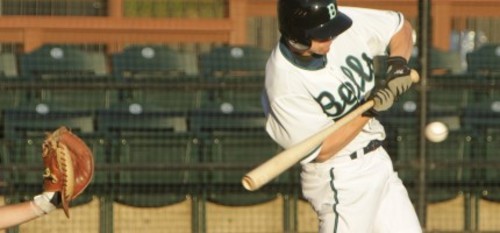 07/06/2011 12:55 AM
The Bells took another early lead and relied on great pitching throughout the game, beating the Walla Walla Sweets 4-1 for their seventh consecutive victory.
Bellingham got off to a quick start offensively with Eric Lane ripping a double on the first pitch of the game. After a Kai Hatch groundout moved Lane over to third, Jeff Gelalich hit a single up the middle, scoring Lane and giving the Bells a 1-0 lead.
Bellingham continued the attack in the second inning, taking advantage of a Walla Walla error on a potential double play ball. Following the error, Marshall Yanzick popped a single over second base with runners on first and third, scoring Michael Aquino. J.R. Bunda advanced to third on the play and then scored after Manager Gary Hatch called a successful double steal, giving the Bells a 3-0 lead.
Bellingham maintained its lead thanks to the excellent job by starting pitcher Chris Howard. Though Howard gave up seven hits in five innings, he got out of every jam the Sweets presented and held them scoreless. Howard displayed pinpoint accuracy all night, striking out four while not allowing a single walk.
Bellingham's bullpen took over from there, as the Bells held Walla Walla to one run over the last four innings. Four different Bells relievers saw action and Nick Palewicz recorded the save, his second in three days.
Offensively, Bellingham was led by the continued hot hitting of Michael Aquino and Eric Lane, who each recorded two hits. Aquino, 7-13 in his last four games, scored the Bells final run on a wild pitch.
With the win, Bellingham now moves three and a half games ahead of the Sweets for the second and final playoff berth in the WCL's East Division. The Bells will look to create separation in game 2 of the series, which begins at 7:05 p.m. Wednesday night.