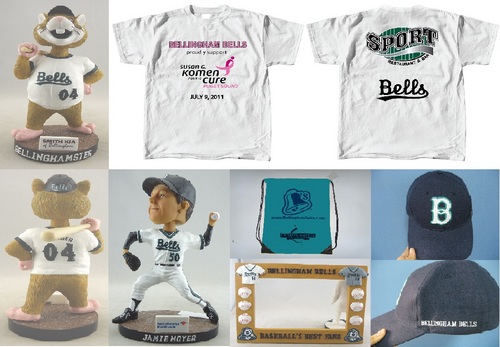 07/05/2011 11:18 AM
Though the Bells season is quickly progressing, nearly 20 home games remain. These games present not only an ideal opportunity for people of all ages to see high-quality baseball and have lots of fun, they also include the chance to receive many memorable giveaways!
Friday, July 8th is Bells Cap Giveaway at Joe Martin Field. The first 1,000 fans will receive replica adjustable hats that include the Bells new home game logo.
Breast Cancer Awareness Night, sponsored by Sport Restaurant & Bar, will be celebrated on Saturday, July 9th. Not only will proceeds from the night benefit the Puget Sound chapter of Susan G. Komen, there will be a t-shirt giveaway for the first 1,000 fans on this unforgettable evening.
Throughout the season, there has been much buzz about the Bells brand-new mascot, Dinger. On Monday, July 18th, the much-anticipated Bells Mascot Bobblehead Giveaway will occur at Joe Martin Field. The first 1,000 fans through the gates receive this bobblehead, which features the Bells "Bellinghamster" mascot. Make sure to arrive early as there promises to be great demand for this exceptional giveaway item.
The Bells second bobblehead giveaway of the season will come two nights later on Jamie Moyer Bobblehead Giveaway Night. Major League Baseball legend Jamie Moyer and his wife, Karen, will be at Joe Martin Field as the Bells partner with the Moyer Foundation. Sponsored by Bank of America Merrill Lynch, a bobblehead of Jamie Moyer in a Bells uniform will be presented to the first 1,000 fans.
On July 30th, Charter College will sponsor Bells Drawstring Backpack Giveaway, where the first 1,000 fans receive a brand-new backpack. Come get this backpack just in time for students to head back to school.
The final giveaway of the Bells season will be on August 3rd when Bells Photo Frame Giveaway corresponds with Fan Appreciation Night. The first 1,000 fans will receive a Bells photo frame- a unique item that promises to be a keepsake for years to come.