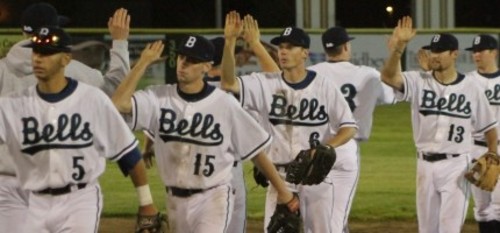 07/05/2011 1:11 AM
The Bells got two runs in the third inning and relied on solid pitching the rest of the game on the way to a 2-1 victory Saturday, the team's sixth in a row.
After two scoreless innings, Eric Lane reached on an error to lead off the third. The Bells would go on to capitalize on the Blue Jackets mistake, putting runners on second and third after Kai Hatch's subsequent double. Ben Grubb delivered the Bells first run on an RBI groundout and Jerry McClanahan followed that with an RBI single, extending the Bellingham lead to 2-0.
Kolton Emery preserved the lead with a great performance on the mound. Emery allowed one run in 5 2/3 innings, yielding three hits while displaying pinpoint control in allowing only one walk.
The only trouble Emery faced came in the sixth inning when Evan Potter led off with a single and Cole Norton followed with a base hit on a hit-and-run, advancing Potter to third. Chaos ensued when Norton took too wide of a turn off first. The Bells had him in a rundown but threw the ball away, allowing Potter to score.
Emery retired the next two hitters before giving way to Tyler Spear. Spear pitched 2 2/3 scoreless innings, allowing one hit and two walks. With a man on first with one out in the ninth, Manager Gary Hatch removed Spear and brought in Jack Vander Linden.
Vander Linden got Claude Johnson to hit into a fielder's choice and then Mitch Bluman flew out to center field, ending the game and giving Vander Linden his first save of the year.
Though no Bells player had multiple hits, it was a balanced offensive attack with eight players recording a hit.
With the victory, Bellingham moves to 11-13 on the year and remains two and a half games ahead of the Walla Walla Sweets for the second playoff spot in the West Coast League's East Division. The Bells and the Sweets square off in a three-game series in Bellingham that begins Tuesday night with a scheduled 7:05 p.m. first pitch.