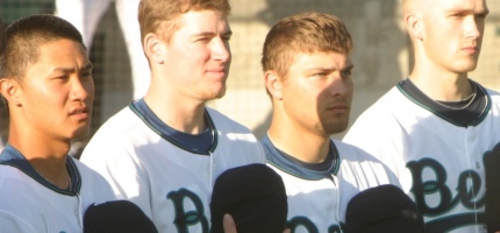 07/03/2011 8:54 PM
On the strength of two ninth inning runs and excellent pitching, the Bells recorded their fifth straight victory Sunday night, defeating the Kitsap Blue Jackets 2-1.
Through eight innings, the game belonged to starting pitchers Adrian Sampson and Blake Golding. Sampson, Bellingham's ace, delivered another outstanding performance, pitching eight scoreless innings while scattering three hits and striking out nine Kitsap hitters.
The only significant jam Sampson faced was in the fourth inning, when Kitsap loaded the bases with one out on a single and two Sampson walks. Sampson promptly struck out the next hitter and then induced a popout to end the inning.
The Bells struggled for much of the game against Golding, mustering only three singles in the first eight innings, two by Michael Aquino. In Golding's last start against Bellingham, he only allowed one unearned run in eight innings.
The ninth inning of Sunday's game proved to be different, however. Eric Lane singled with one out and advanced to second on a Kai Hatch groundout. Ben Grubb then delivered a single up the middle to score Lane. Grubb advanced to second on the throw home and eventually scored on a Pat Gallagher single to right field, giving the Bells a 2-0 lead.
Kitsap mounted a rally in the bottom of the ninth, however. Andrew Biancardi led off with an infield single and got to second when Bells pitcher Nick Palewicz hit Evan Busby. After a sacrifice bunt, Mitch Bluman grounded out, scoring Biancardi and advancing Busby to third.
Palewicz was then able to get Robby Witt to ground out to Lane, ending the game.
The victory was Bellingham's fourth straight one-run win and moves them to 10-13 on the year. The Bells play Kitsap on Monday at 6:35 p.m. in the finale of the two-game series.